Family Trips
We have used family trips as learning experiences on many occasions, including going to numerous National Park battlefields across the country, and traveling to Jamestown in 2007 to celebrate the 400-year anniversary of its settlement. But one of the most memorable trips our family has ever taken was when we traveled along the Lewis and Clark trail in 2005. There were seven of us in our eight-passenger minivan and we travelled for almost three weeks. It was an amazing trip. In fact, as the younger children got older they often asked when we would do that again. Sadly, it was probably a one-time event, since schedules just become more complicated as the kids grow up.
Packing for the Trip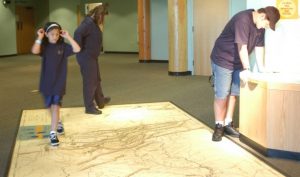 Of course, with seven of us in that van, space was at a premium.  As we planned the trip, we quickly decided that seven suitcases going in and out of the hotels almost every night would be a bit insane.  So, we went with three very large suitcases and one smaller one.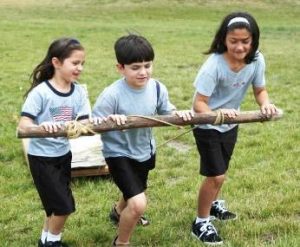 In each of the large suitcases we packed two days of clothes for each of us. And in the smaller suitcase we packed our overnight stuff and our swimsuits. That way we only took in two suitcases each night – the small one and one of the larger ones.  Most times we were staying in a hotel for just one night, but on several occasions we had more to see in the area, and we planned a two-night stay. Of course, on those nights we made sure we brought in a suitcase that still had two days' worth of clean clothes in it.
Laundry Along the Way
And of course, we had to do laundry several times on the trip, since it was a 20-day trip and we only brought seven days' worth of clothes. I did laundry one night at a hotel while the kids (which included my 27-year-old daughter) hung out at the hotel's pool with a water slide. And I did it another time at a laundromat, so I could get our many loads done quicker.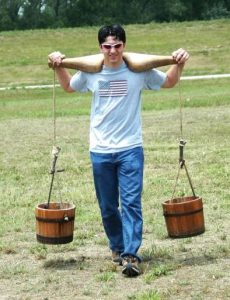 For that trip, we had our general route planned out at least as we headed north and west from St. Louis (that was easy, since we were staying as close to the Lewis and Clark Expedition as we could do in a car). We had considered camping, to save some money, and be more like the Expedition, but we gave up that idea pretty early into our planning – we would have had to bring more gear for camping, which would have pushed us over the edge for fitting into our minivan. And it would have made it more difficult to arrive at our destination late at night, which we often did.
Hotel Rooms vs. Camping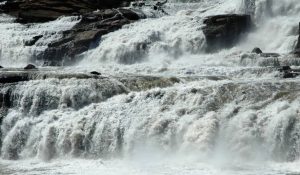 So, we decided to splurge and go with hotel rooms, a decision we were very happy with. (We saved money in other ways – keeping a big cooler in the van with sodas and the makings for lunch meat sandwiches, so we typically only ate fast food once a day, and then only with water.)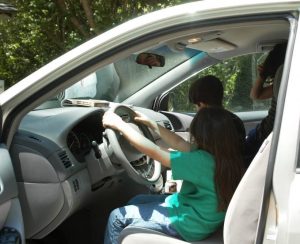 We started the trip with our first two nights' reservations made. Our first day's drive got us to the St. Louis area, where we knew there would be much to see and do; since the expedition had officially begun at Camp Dubois, just a bit outside of St. Louis. But we had no other reservations made beyond that, because we didn't know how far we would get each day. We had to make an average of 260 miles each day, in order to make it to the Pacific Ocean and then back to Montana for a family reunion in two weeks. But other than that, the schedule for those first weeks was fairly flexible.
Planning as We Went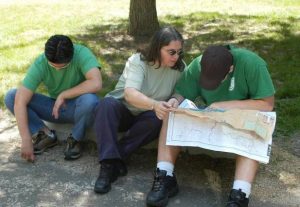 So we worked out the details as we went along. My oldest did almost all of the driving, and I played navigator and tour guide. Depending on what there was to see and do on each particular day, would determine how close to the average we actually got. Some days there were too many sites to visit, and we logged significantly less miles. But some days the drive was the main event, and we could make up some of the earlier "missed" miles.
When we started the trip, we hadn't discovered a particular hotel chain we liked, and we typically chose our hotels based on what we found in the little hotel brochures as we crossed into different states every day or so.  From those we could see what was ahead, what the prices of several different hotels would be, and which of our preferences we could get – an indoor swimming pool, a large room or two connecting ones, and free breakfast. And, while we had cell phones by then, they were not the mini computers we carry around with us these days! By the end of the trip we had found ourselves choosing from the Choice Hotels line the majority of the time, and that is still our go-to chain more than a decade later.
We couldn't always get a hotel with an indoor pool, but we did on enough occasions to make the younger kids happy.  And on more than one occasion the teenagers were watching the younger kids in the pool while my oldest and I were repacking the van. (Wet swimming suits were a small price to pay for happy kids and smooth packing!)
Packing Sanely
Speaking of packing – two of the things that we did on that trip that helped immensely were color coding everyone's tops and using gallon size Ziploc bags to sort clothes. Into each bag we could put one person's shirt, socks and underwear.  The bags were marked by names and colors, making it easier to pass out clothes each day, and making it easier to sort the clothes back into the right bags and suitcases after doing laundry.
Before we went on the trip, we sat down as a family and chose 7 colors. Then I checked to see who had what colors of shirts and who was missing what colors. Trips to a couple of thrift stores and we were all set. Matching colors also made it easier to spot the other family members when we had stopped somewhere.
Entertainment Options
Another decision we made that proved very helpful to us, was to allow only one DVD per day. We brought along a container full of family approved DVDs and another one full of CDs. On the first day, the youngest one got to choose the day's DVD, on the second day, the next to the youngest, and so on. There was no arguing over the chosen DVD, since each person would eventually get their turn to choose. And there was no arguing about additional DVD's, since that would have resulted in fewer DVDs being watched on the trip, rather than more! (Being the "mean Mom" that I am.)
When they weren't watching a DVD we generally had a CD on – and we rotated through several different series that were generally liked by all (Jungle Jam and Friends, Father Gilbert Mysteries, Chronicles of Narnia, and the unabridged version of Undaunted Courage).  Whenever I had historical facts to share, or things to point out, the CDs would be paused.
Reaching our Primary Destination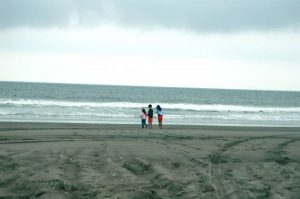 By the time we made it to the Pacific Ocean we had all seen, done, and learned an amazing amount of things connected to the Lewis and Clark Expedition!
And by the time we had returned, I had almost completed our journal of the journey, The Lewis and Clark Expedition Jaime-style. The book from Fodor's Travel Historic America series, the Lewis and Clark Trail was very useful to us. If you are considering a trip along even a portion of the trail, that book is well worth the investment!
For more of our ideas on learning with travel, you might also want to check out our book, Learning as We Go: Teaching through Travels.