To say that I am a long-time creationist would be an understatement. My husband and I listened to our first debate on creation versus evolution decades ago when we were college students. And I have read, watched, or listened to a wide variety of creation resources over the ensuing forty plus years. Needless, to say I'm a big fan of Ken Ham's work with Answers in Genesis.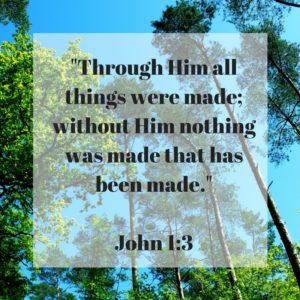 And since we live in northern Alabama, less than 400 miles from the Creation Museum, we have made many trips there. In fact, we became members in 2008, within a year of their opening, and have had some sort of membership there ever since. We probably only average one trip per year, but with the size of our family, one trip per year has still made memberships a worthwhile investment. This is something I found to be the case almost any place I took my kids – from zoos to aquariums to most museums. (For example,  in 2005, on our Lewis and Clark  adventure we got a one year family membership at Fort Mandan's Lewis and Clark Interpretive Center – knowing there was almost no chance we would be back in North Dakota within the next twelve months – but we were still better off getting the membership.)
In addition to numerous trips with family members, I've taken students to the Creation Museum twice and the Ark Encounter once (it was still just a dream the first time I took students up there.)
Every trip has been a little bit different, of course, but every one of them has been worthwhile. On this most recent trip, we did the Ark Encounter first. It was the second time my daughter and I had been, and we had the privilege of introducing four others to it (two teens and two older adults). As expected, a good time was had by all.  And there is something awe-inspiring about seeing a life-size ark, and then going inside and imagining (with the help of some wonderful creative effects) how Noah's family and all those animals would have lived and worked in such a space for over a year.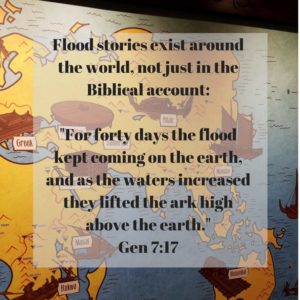 The exhibits at both museums are extremely well done – from both a visual aspect and an information one. Since my daughter and I had been before, we were able to focus on some of the exhibits that we had only glossed over the first time, as well as enjoying several that were new since our first visit.
Because there is so much to see there, it is most definitely the type of place that begs for a return visit (or 2 or 3 or …), hence the beauty of a membership. It's just really hard to take it all in at one time.
Additionally, I strongly recommend against trying to do both the Ark Encounter and the Creation Museum in one day. I met a couple as we were finishing the Ark who had done them both that day, and it made me tired just listening to them. There is so much to see and do at both places that I cannot imagine doing that – there would be no way to fully enjoy both places if you were trying to cram them both into the same day.
And at the Creation Museum, be sure to include a planetarium show if at all possible. We have watched one almost every time we have been there, and never get tired of them  – with our favorite being Created Cosmos.
So, again, my recommendations for getting the most out of your trip to the Creation Museum and the Ark:
The absolute best option is to get an annual combo pass so that you can go to both the Ark Encounter and the Creation Museum two or more times in a twelve month period.
Next best is to get a ticket that includes both – and go to one on one day and the other one on the next day. We actually did one on Tuesday and one on Thursday on our last trip, and visited the Newport Aquarium in between the two. No right or wrong way to do it!
But, if those are not options, and you have the endurance for it – visit them both in one day – just know that you'll be really tired at the end of the day! (Also, figure in forty-five – ninety minutes to get from one to the other and park. At the Ark Encounter you will be parking and riding a shuttle to the Ark itself, and at the Creation Museum you may end up parked far enough away to where you prefer to ride the shuttle bus. And of course, all that adds to the time factor.)
And, if you just can't work in the time or the money for both, you can't go wrong with either. The friend I took this last time enjoyed the Ark more – feeling like she was "encountering Noah and the Flood" in an entirely new way there. But, the Creation Museum might be my choice for just one, because it covers such a broad array of topics within the area of creation, including a small exhibit on the ark. But again, neither would be a bad choice.
Both places have restaurants that you can eat at if you are there over a meal (we usually are) and don't want to pack a picnic (we usually can't). The restaurant at the Ark became a buffet between our first and second trips there, which made it a little more expensive than we had planned on, but it was actually an exceptional meal, so in the end we all decided it had been worth it, and we will gladly eat there again on future trips.
Whether you are "in the area" or have to make a special trip to the greater Cincinnati area for these, I strongly encourage you to work these into your trip. If you want to share good, solid Creation information with your students or family, or just want to increase your own knowledge, you can't go wrong with the Ark Encounter and/or the Creation Museum.
Each place has done an exceptional job of bringing together great displays with good information, in a family friendly location, suitable for children and adults alike. There are inside portions, and weather permitting, some nice outside portions at both as well – including a petting zoo and nice botanical gardens.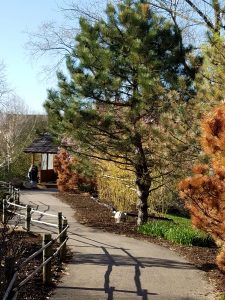 Happy traveling and learning!
Cathy